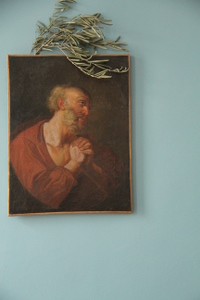 A l'intérieur de ma cuisine, il y a un joli bleu lumineux.
A l'extérieur, il y a une pluie fine qui tombe sans fin...
A l'intérieur, on essaie de trouver du temps pour chacun. Des CV à rédiger, des examens à réviser, des ados à écouter, des sacs à boucler, des trains à attraper et des gardes robes à créer...
A l'extérieur, il pleut de plus belle et on se plait à rêver d'un lundi un peu moins gris, un peu moins chargé... aussi !
Robe Marie et tissu Citronille, ouverte devant, ceinture passepoilée grâce a sa très bonne idée pour donner à ce modèle un style un peu + trendy. Merci Laure!
Inside my kitchen, there is a nice bright blue color.
Outside, a fine rain is falling, on and on.
Inside, there is time to be found for each others, CVs to be written out, exams to get ready for, teenagers to listen to, packs to finish off, trains to be jumped in, and wardrobes to be created...
Outside, it is raining even more and we like to think of a Monday that would be less dull and less fully-loaded... too.
Marie dress, Citronille fabric, with front opening, piping belt thanks to her very good idea to get a more trendy style for this model. Thank you Laure!